https://home.babbel.com/dashboard
Ciao Italia!
Click here to see the video, made March 2012
Click here to see the script, and pictures taken during the performance on stage
Visita al Ristorante: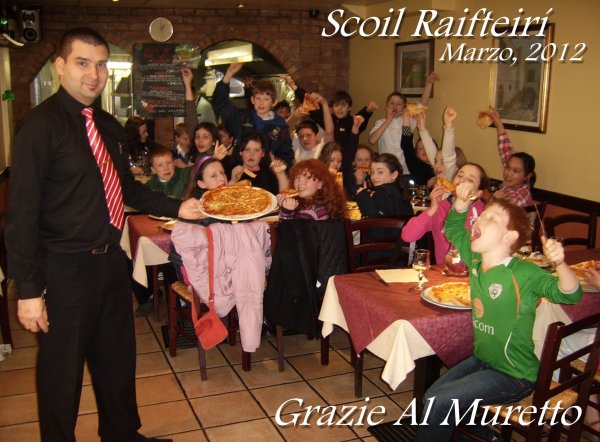 È stata una bella visita. Abbiamo mangiato pizze e gelato dopo aver fatto la registrazione.
We enjoyed pizza and ice-cream after the recording session in the restaurant.
Una Grande Pizza Vesuvio!:
Click here to see the text and music of this Italian song for the Christmas concert of 2011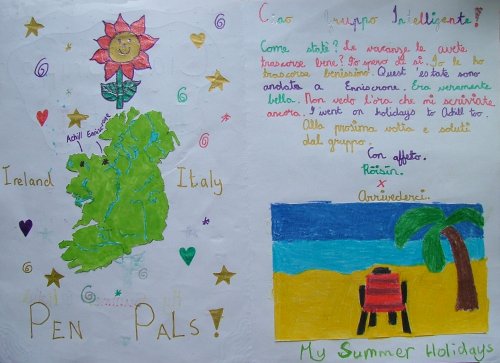 Here's a letter between penpals, sent October 2008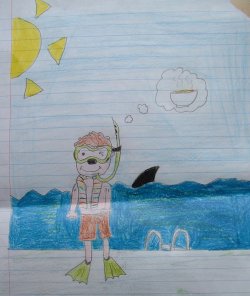 Ci piaciono mandare le letterine!
Click here to see an Italian Journal showing what children at our
Livorno twin school get up to: Un diario italiano!
Rang 5, 2007:

Click to see Rang 5 learning Italian


Rang 6, 2007:

Click here to see a little drama lesson
Here's some Christmas artwork from 2007, sent by Classi 4A and 4B, Scuola Cattaneo:
Click here to see some more
Click here to see us singing Canti di Natale, our Italian song for the 2007 Christmas Concert
Canti di Natale

Ben-ven-ut-i tut-ti qua
Fáil-te romhaibh go léir
Ques-to è il con-cer-to
Seo é an ceol choir-m

Can-ti-amo le can-zo-ne
Can-aim-is amh-ráin
As-col-tat-e can-ti di nat-a-le
Éist-ig-í le car-úil na Nol-lag

È ven-u-to Je-su Cris-to
Thái-nig Ío-sa Críost
Ha sal-vat-o tut-ti noi
Shábháil sé muid go léir

Can-ti-am-o…

Ecco bab-bo na-tale
Seo é San Nioc-lás
Por-ta ci i reg-ali
Tá bronn-tan-ais aige

Can-ti-am-o….
Click here to see a lesson teaching us about the weather: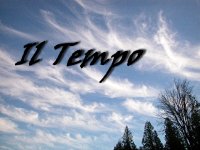 Italian Lesson: Vuoi un Gelato?
2006:
Pupils from 3rd and 4th Classes are paired with children from our Livorno school
Here's some of the Christmas artwork they sent us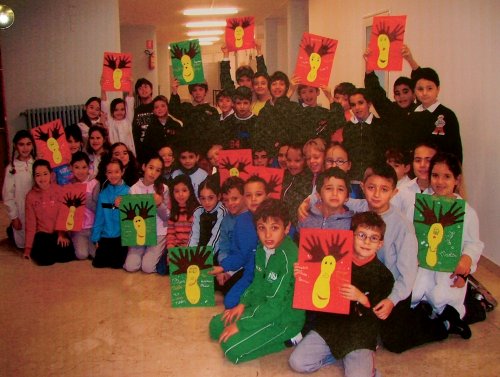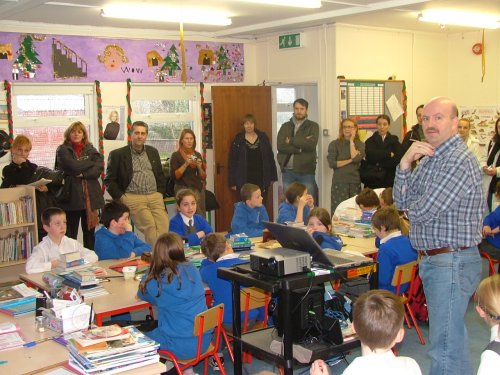 Another visit from an Italian delegation from the Parma district
Like last year, they brought us lovely Parma ham and cheese
Grazie Mille!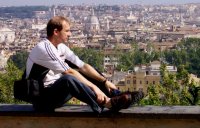 Roma Mí Meán Fómhair 2006
Carnevale 2006
Tháinig Pascaline le rudaí ón Iodáil chun múineadh faoi chultúr na hIodáile.
Abbiamo provato delle maschere di Carnevale nelle classi 5 e 6.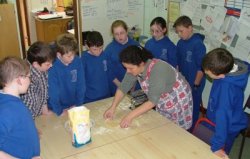 Click here to see pictures of Lorella making Frappe with us
Martedì Grasso, Feb. 28, 2006

16.11.05: Tháinig cuairteoirí ón Iodáil chuig Scoil Raifteirí.
Visita di insegnanti da Parma

| | |
| --- | --- |
| Hanno visto Rang 5 | C'era un piccolo concerto |
| Ci hanno dato belle sorprese: | Múinteoir Philomena sliced the salami |
| It was shared out... | ...agus bhí dóthan le ithe ag gach duine |