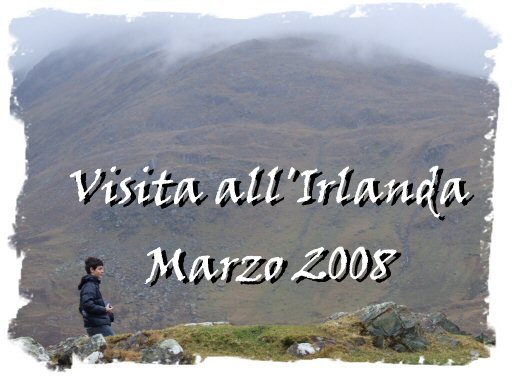 Our friends from Tavullia came to visit us in March 2008
I nostri amici di Tavullia hanno passato quattro giorni in Irlanda
entra Marzo 12-16, 2008
12 Marzo (Mercoledì):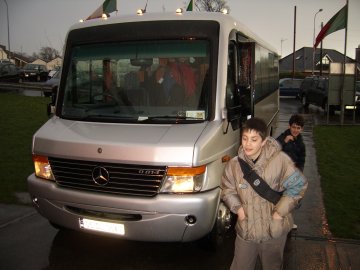 Sono arrivati nella pioggia
Benvenuti!

It was exciting to meet up again

We received a lovely book on Raffaello

ll sindaco ha presentato un libro

Ha parlato Eugene McCormack

Lucia ha controllato il libro di Mayo

Abbiamo presentato un flauto di stagno ad ogni ragazzo

Ecco gli adulti...

...e ecco qualcosa da mangiare!

Avevamo un quiz

Collaborazione entra ragazzi e ragazze, Italiani e Irlandesi

I vincitori
13 Marzo (Giovedì):
Abbiamo fatto una classe di flauto
Click here to see a piece of music
We also learned a song together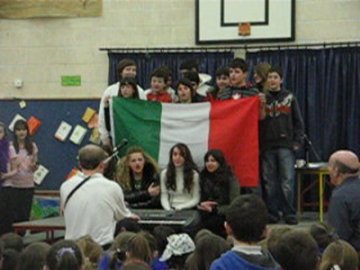 Gli Italiani hanno cantato i pezzi in Italiano...
...e gli Irlandesi hanno cantato le parole in Gaelico
Click here to see una stanza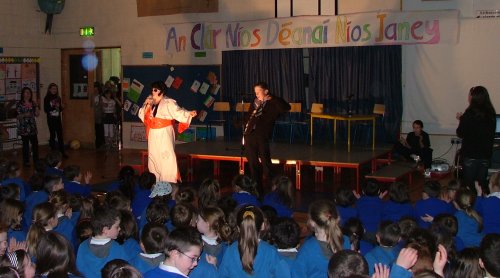 There were stage performances from 5th and 6th Classes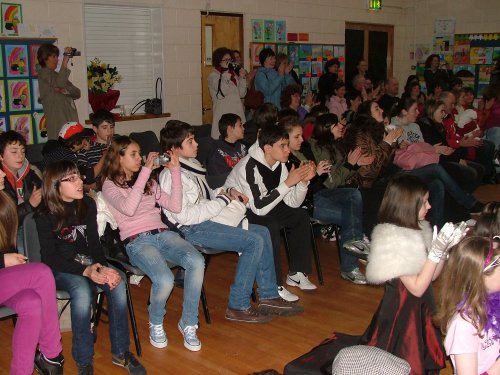 Ma non è stato facile capire tutto fra Gaelico!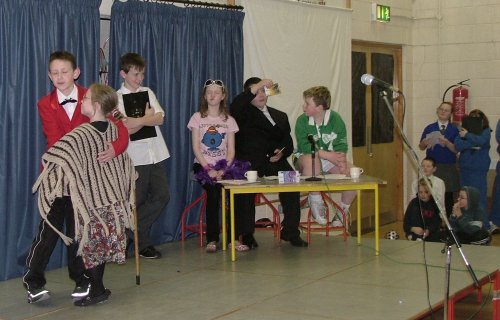 I ragazzi hanno visitato le scuole secondarie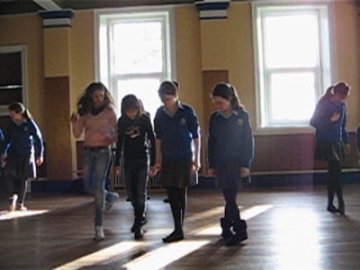 Click here to see a dancing lesson in one of the schools
C'era una cena per tutti a Lough Lannagh
14 Marzo (Venerdì):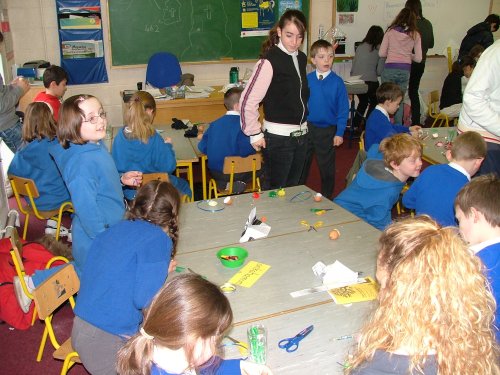 Una lezione di arte con la Seconda Classe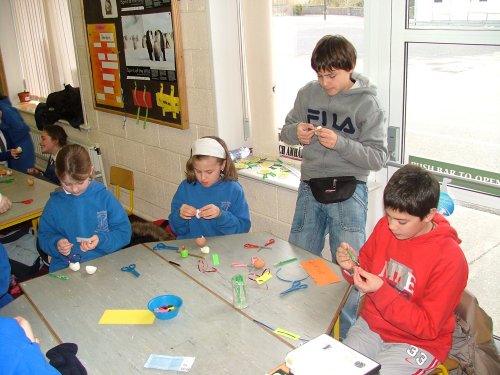 We made little chicks in bits of eggshell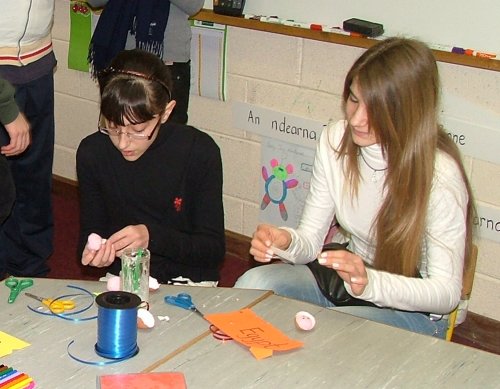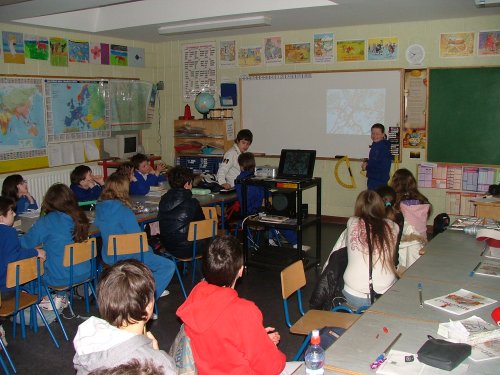 Poi, abbiamo fatto una lezione di Italiano con la Quinta Classe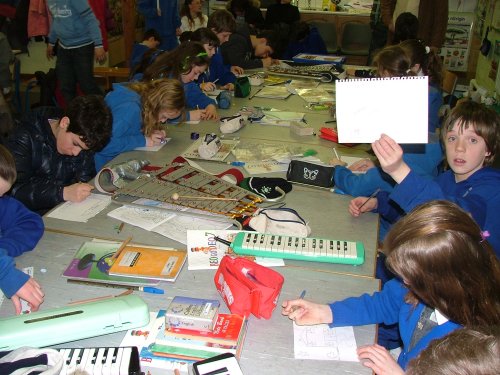 The lesson was on the town of Castlebar
Then we made our own town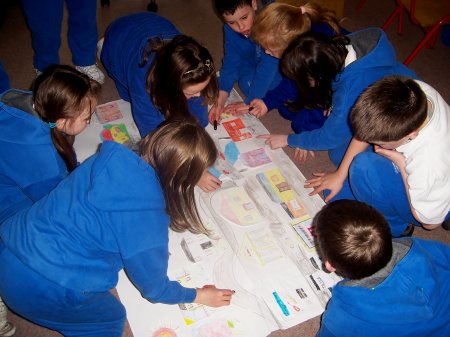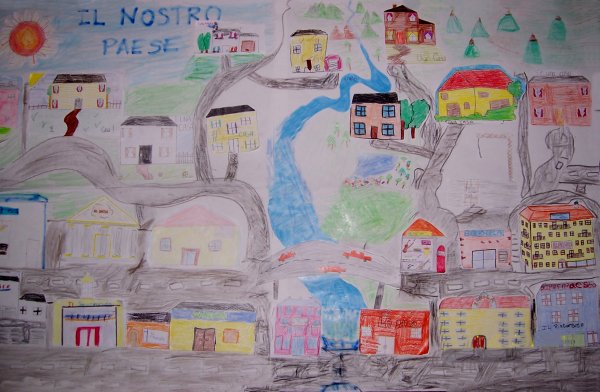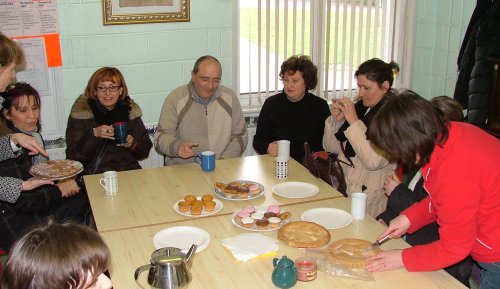 Pausa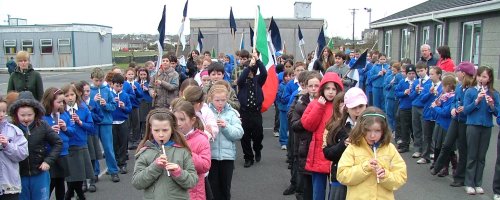 Gli Italiani hanno lavorato fuori, preparando per la sfilata
Click here to see a video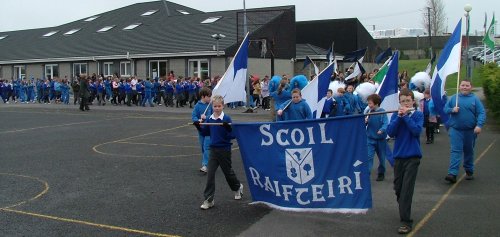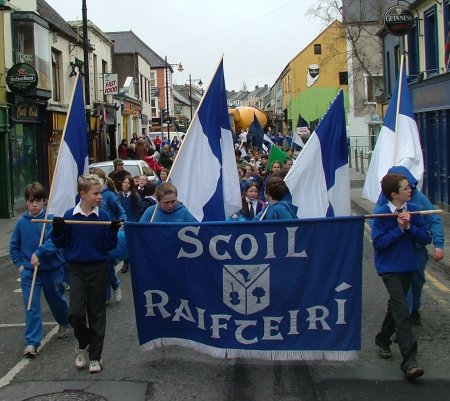 Siamo andati al centro di Castlebar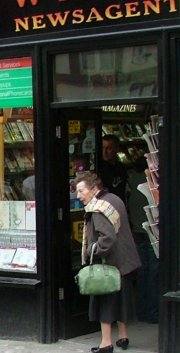 Le strade erano affollate di spettatori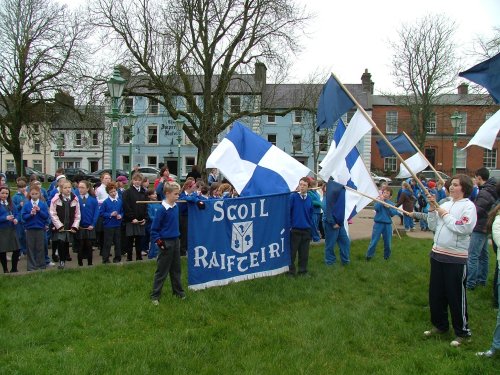 We performed at the Mall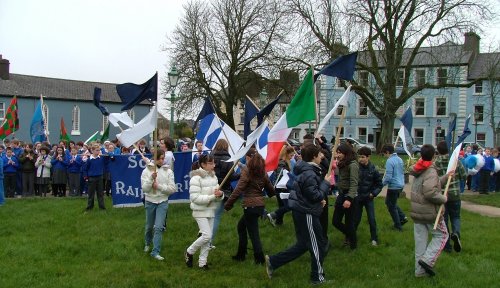 Click here to see our routine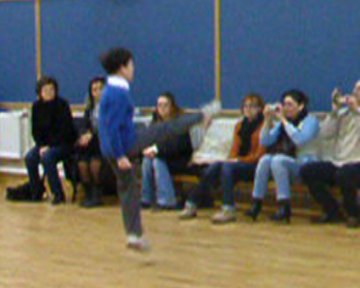 There was a display of dance
Cliccare qua per vedere un pò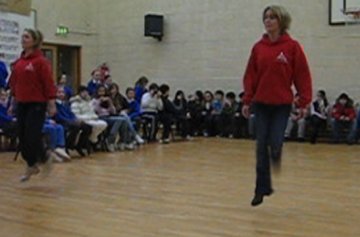 Click here to see another display
That afternoon, there was a visit to the Museum of Country Life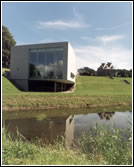 The museum opened to the public in September 2001.
The exhibitions portray the lives of ordinary people who lived in rural Ireland in the period 1850 – 1950.
Emphasis is placed on the continuity of lifestyles,
which were established for several hundred years and which lasted well into the 20th century.
Interessante, ma...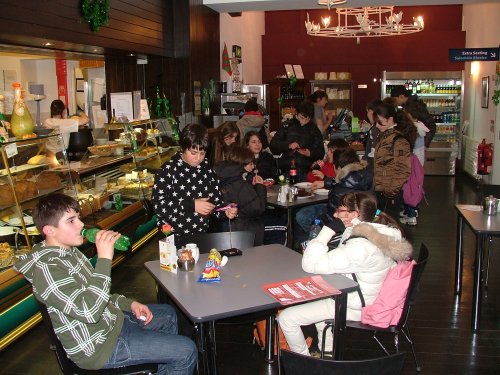 ...ho preferito il caffè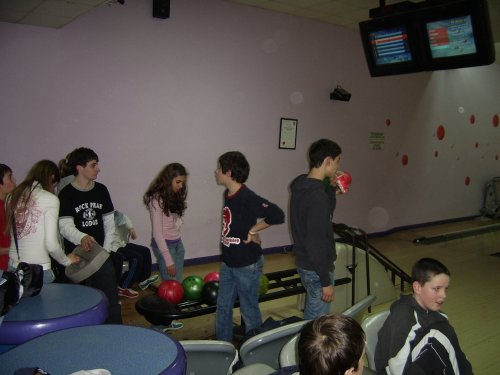 Ancora meglio:
Bowling and Laser World alla sera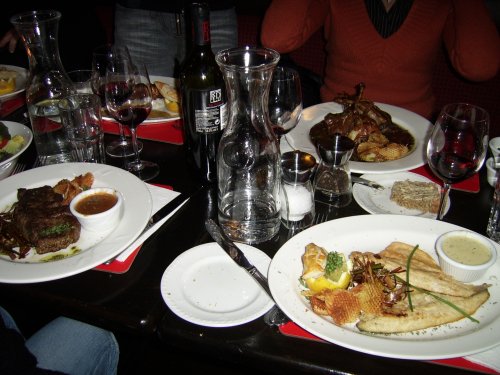 Gli adulti hanno mangiato bene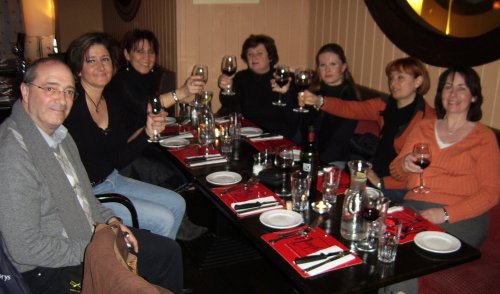 15 Marzo (Sabato):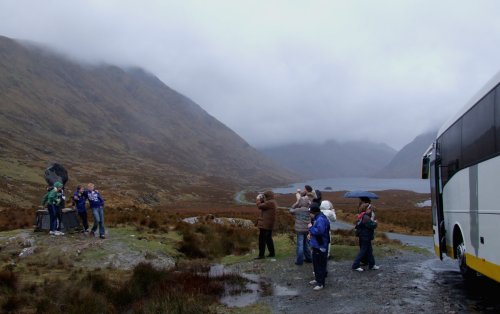 Una gita per vedere County Mayo...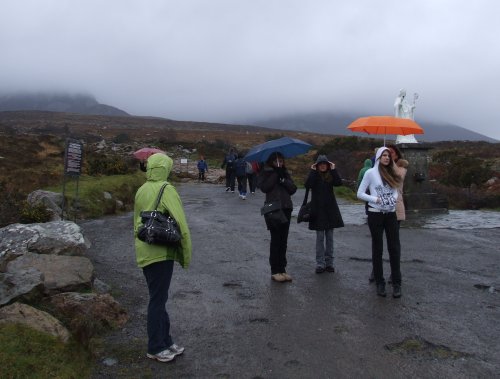 ...nella pioggia!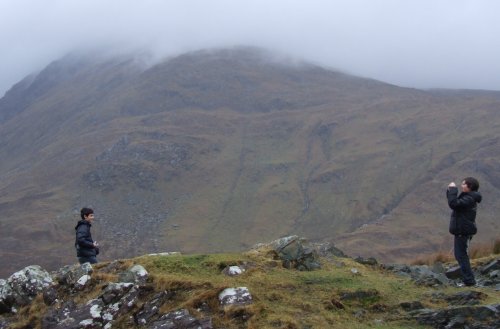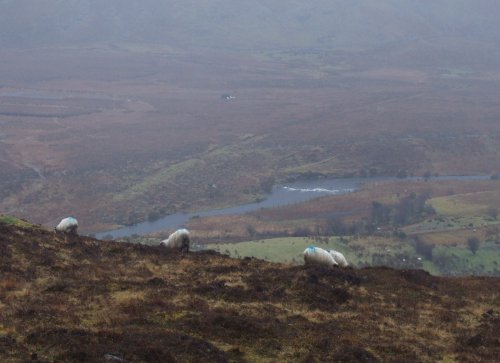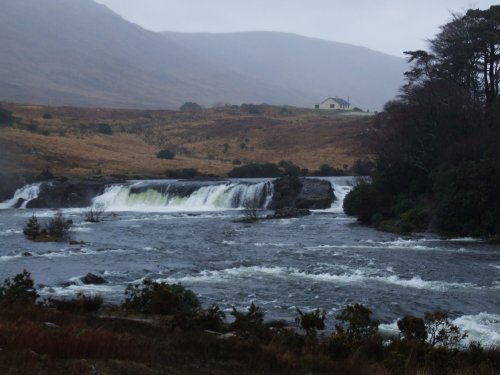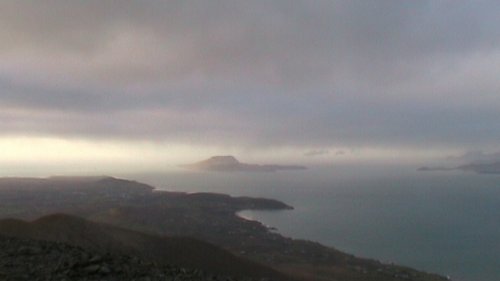 Click here to see Mayo on a nice day
Questo video mostra la veduta di Croagh Patrick quando non piove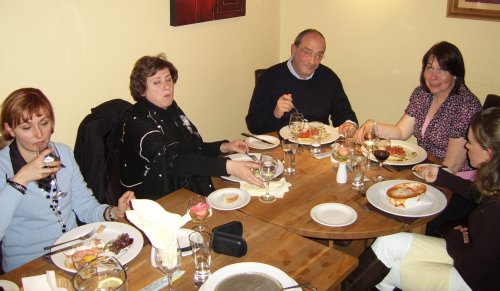 Ancora una cena per gli adulti...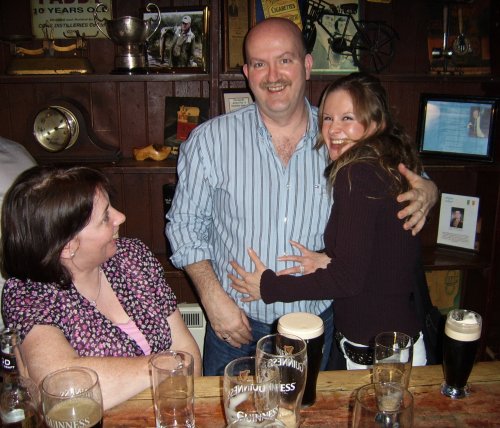 ...e poi, una visita al pub
16 Marzo (Domenica):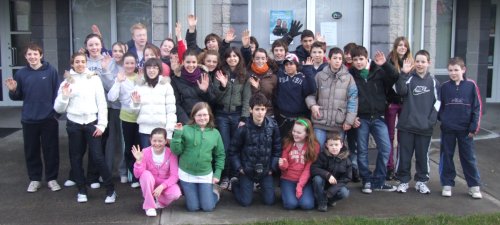 Click on the picture to see a big version
Più grande?: Cliccare qua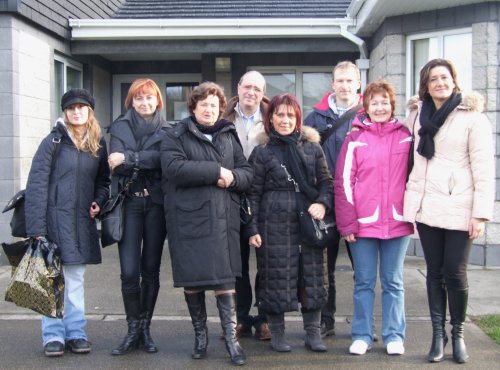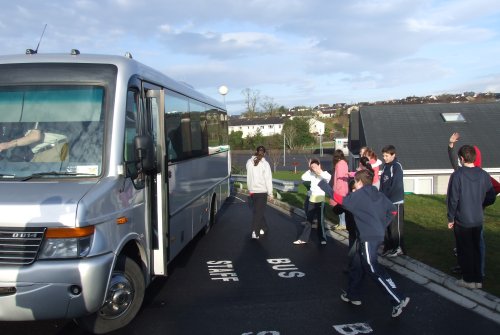 E ciao a tutti: Buon Viaggio!
Thanks to all the parents who hosted the Italian children
Thanks to the UDC for substantial financial assistance
Thanks to Paul and Geraldine and all at Lough Lannagh
Thanks to St. Joseph's, Davitt's and St. Gerald's
Thanks to the Civil Defence for use of a minibus