Dov'è Livorno?


Si trova sulla costa ovest dell'Italia, dove le colline cadono nel Mar Ligure.

Tá na páistí ó Ranganna 4 agus 5 i Scoil Raifteirí ceangailte le scoileanna Cattaneo agus Lambruschini di Livorno.

Who knows, new pen pals may lead to new friendships as our schools continue to exchange news, information and chat.

Cá bhfuil Livorno?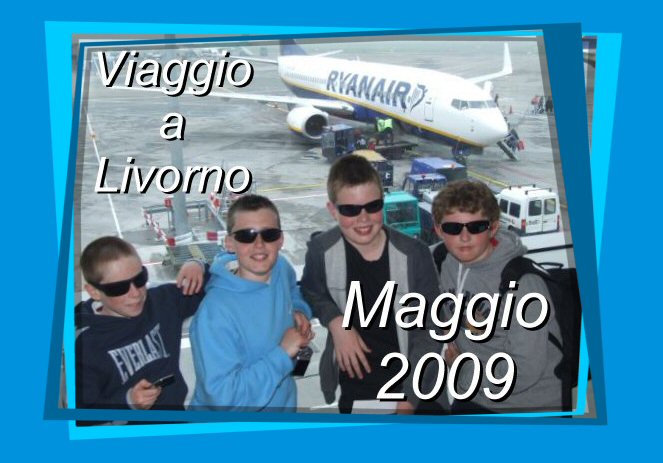 Click here to see pictures from our visit in May 2009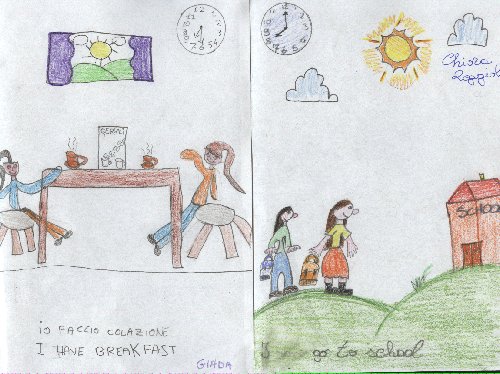 Click
here
to see an
Italian Journal
showing what children at our
Livorno twin school get up to:
Un diario italiano
!
Here's some Christmas artwork from 2007, sent by Classi 4A and 4B, Scuola Cattaneo:
The objects are made up of dried seeds
Seo roinnt ealaíon álainn a fuaireamar i rith na Nollag. Our Italian friends sent us some lovely artwork celebrating Christmas.
We've been receiving lots of interesting things from Italy. These are pictures the groups partnered with the boys and girls of 4th Class.

On the right is one of the pen-pictures we've received, telling us about our friends in Livorno.

This the Scuola 'Cattaneo' in Livorno


Time for exercises

The lovely mimosa tree outside the school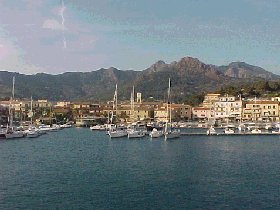 This is a view of the island of Elba, proprio dove fu esiliato
Napoleone (per la prima volta)
Elba is not far from Livorno.
Below are two graphs showing where Scoil Raifteiri
schoolchildren went on their summer holidays.

Sixth Class

Countryside: 1
Cities: 8
Seaside: 9
Lake: 1
Mountains: 0
Islands: 5


Fifth Class

In Campagna: 1
In Città: 11
Al Mare: 4
Lake: 0
Mountains: 1
In Isola: 1

These are examples of where our friends in Italy went for their summer holidays.

Once again we were delighted with the art work sent to us.
| | |
| --- | --- |
| Here are some examples of the lovely Christmas cards we received from Classe 5a in Scuola Cattaneo | |
| | |