Éire sa 20ú hAois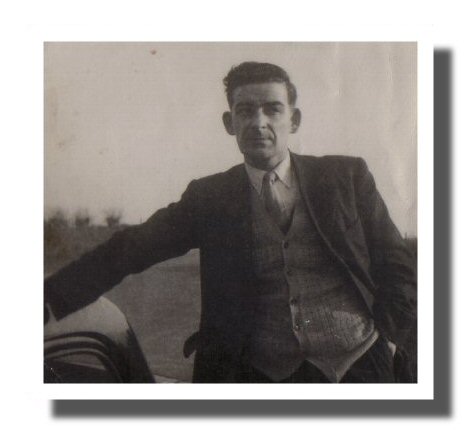 Steve Ryder
Rugadh mé sa bhliain 1923, Lá 'le Stiofán.
I was named after St. Stephen.

Bhí Saorstát Éireann bliain amháin d'aois ag an am seo.
Click here to learn more about the Irish Free State
Seo an pictiúr is luaithe díom.

Not so many photographs were taken in Ireland in the 1920's.

Ag an am sin, chniotáil daoine roinnt mhaith éadaí.

Some of my clothes were hand-me-downs from my older brothers.

Bhí ochtar páistí sa chlann.

Families were large in those days.
Seo an teach inar rugadh mé.

Our family owned a pub in Headford, Co. Galway.

Is féidir leat ainm m'athar, Michael Ryder, a léamh os cionn an dorais.

It was busy, because it was located in Main Street.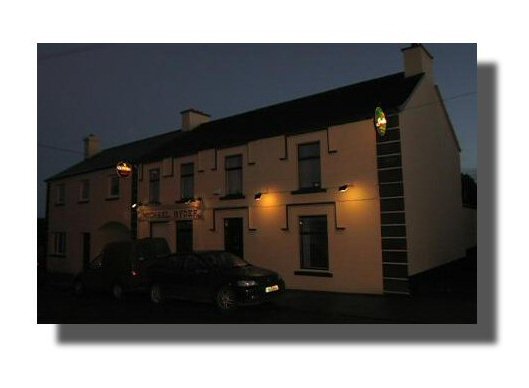 Tógadh an pictiúr seo sa bhliain 2003.
As you can see, the building has not changed much.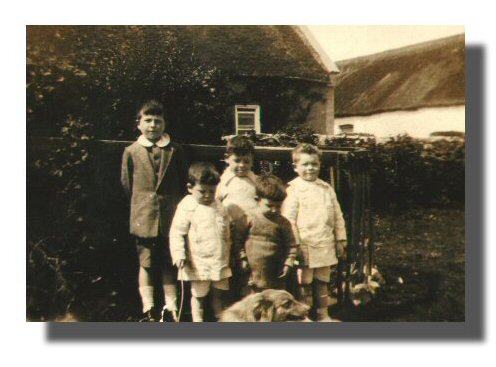 I liked to visit the house in the countryside at Carrowbeg where my mother came from.
Is mise an duine is óige anseo, le ceathrar deartháireacha agus an madra.
Fuair daoine bia sláintiúil ó ghaolta a bhí ina gcónaí ar fheirmeacha.
Click here to learn more about farming in Ireland at this time.
Seo mo thuismitheoirí.

Fuair m'athair bás sa bhliain 1931.

My mother, Catherine, had to bring up the family of seven remaining children on her own, while still running the family business.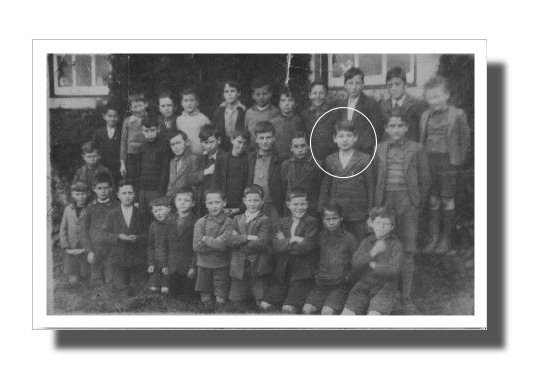 Here I am, towards the end of my days at school.
Ní raibh ach triúr buachaillí i mo chlann in ann dul go dtí meánscoil.
I had to leave school at 12 to help at home.
Click here to learn more about schools and Irish country life in the 1930's.
Bhí gach duine bocht.
I blame the Irish taoiseach, Éamon De Valera, for a lot of this hardship.
In the 1930s Ireland fought an 'economic war' with Britain. Before 1922 many tenant farmers borrowed money from the British government to buy their farms. As part of the treaty of 1922 the Irish state was to collect this money and pass it on to the British. However in 1932 de Valera stopped paying. In response the British imposed a tariff of 20% on Irish goods. This caused great harm to the Irish trade.
Click here to learn more about the Economic War between Britain and Ireland.
Of course, a lot of the economic hardship was due to the
Great Depression which started in America in 1929.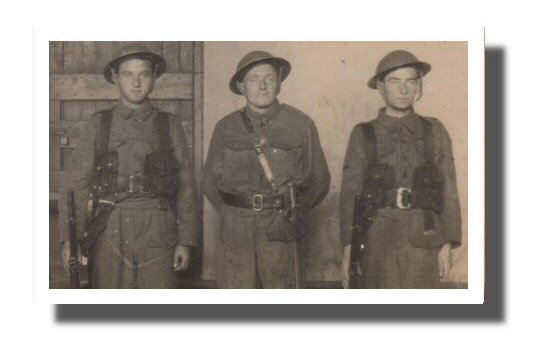 Féach orm mar shaighdiúir san Fhórsa Cosanta Áitiúil.
Ireland had to train and arm 100,000 citizens as backup to the standing army
of 40,000 soldiers in case the country was invaded during the Second World War.
Nuair a thosaigh an Dara Cogadh Domhanda cuireadh tús le feachtas earcaíochta
agus ba ghearr gur forbraíodh fórsa troda éifeachtach chun ár neodracht a chosaint.
In Aibreán/Bealtaine 1941 bhain líon an Airm Éigeandála uasphointe de bheagnach
41,000 amach agus i Meitheamh 1943 bhí 106,000 san Fhórsa Cosanta Áitiúil.
At least De Valera kept us out of the war.
After the war, I got a job in my brother's chemist shop in Ballinrobe.
Click here to learn about Ballinrobe and how it changed in the 20th Century.
An maith leat an cuma sean ar an tsiopa seo?
Anois, féach ar dhá shiopa eile den tseanstíl: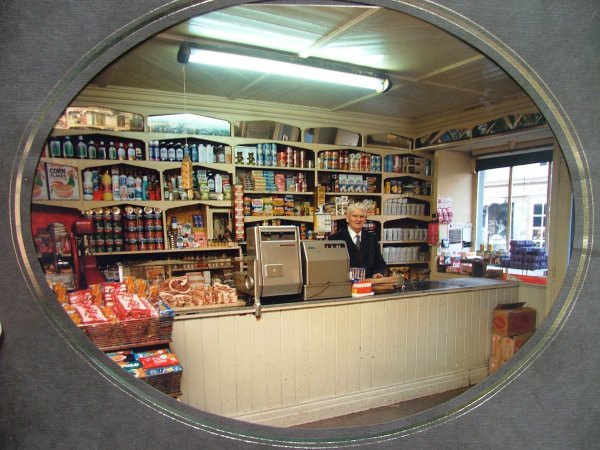 Bhí an siopa seo i gCathair na Mart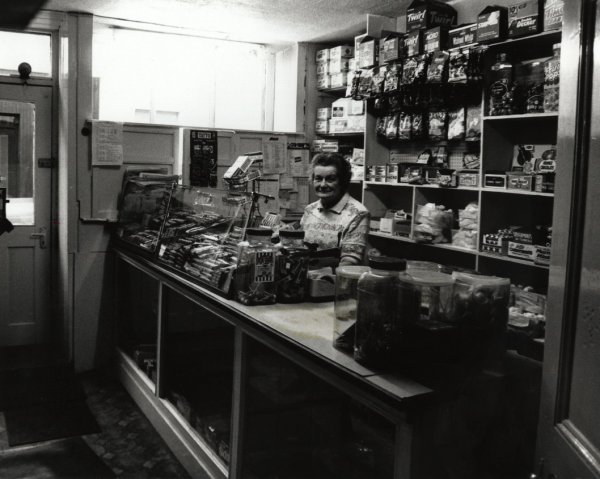 Bhí an siopa seo i Sráid an Chaisil, Caisleán an Bharraigh...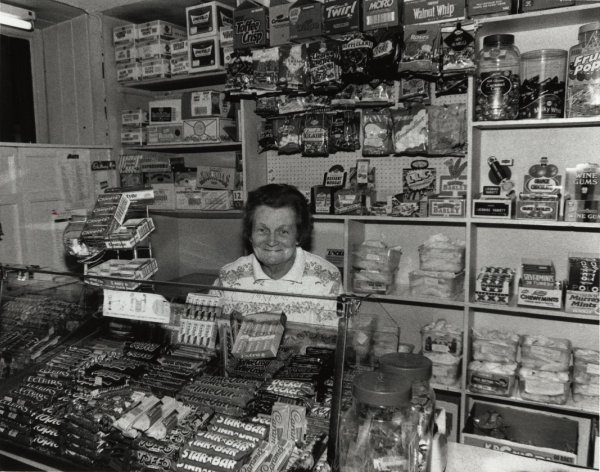 ...McDonald's an t-ainm a bhí air
Anois, ar ais go dtí Baile an Róba:
Fair Day in Ballinrobe from Vimeo.
See a video showing a steam train and a fair day in Ballinrobe.
Chas mé le Kathleen don chéad uair nuair a bhí mé ag obair anseo.
She helped me study to be a chiropodist, and came with me to England to finish the course.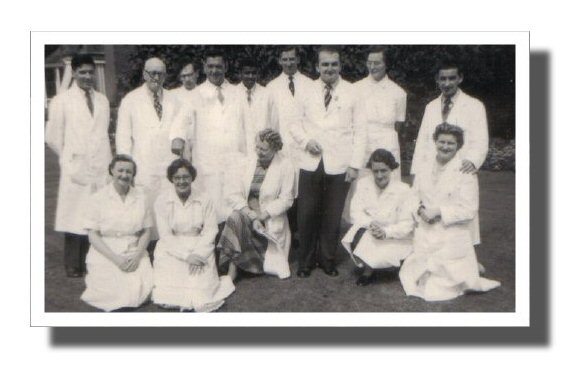 Táimid ar an taobh dheis den phictiúr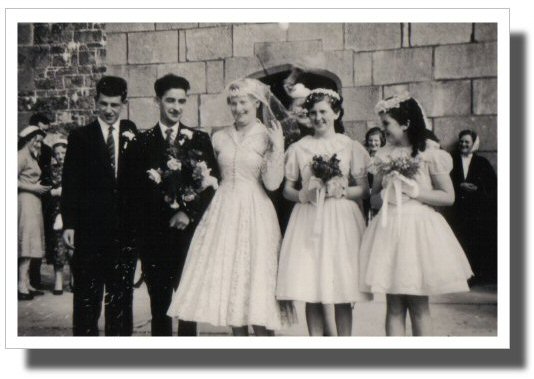 Bhí sé in am pósadh!
We married in 1958.
1958 Wedding from Vimeo.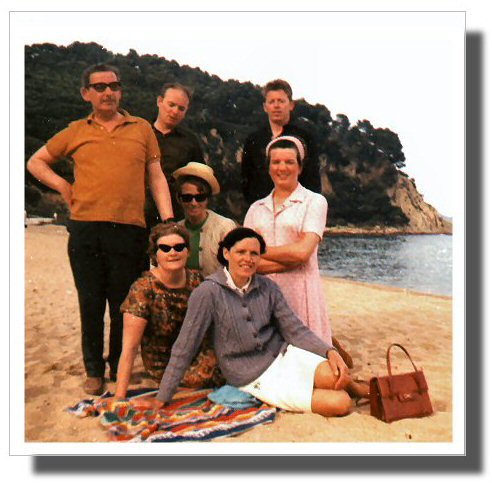 Here we are on a foreign holiday with friends in 1968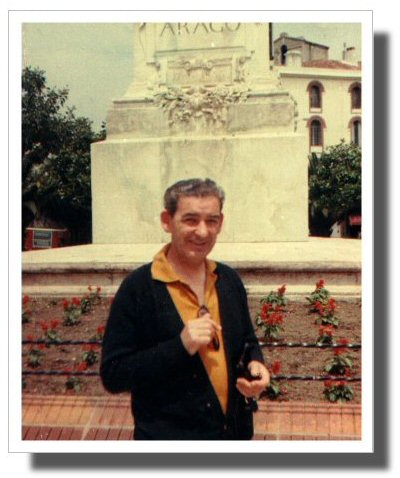 Ní raibh mórán turasóirí ó Éirinn sa Spáinn ag an am seo.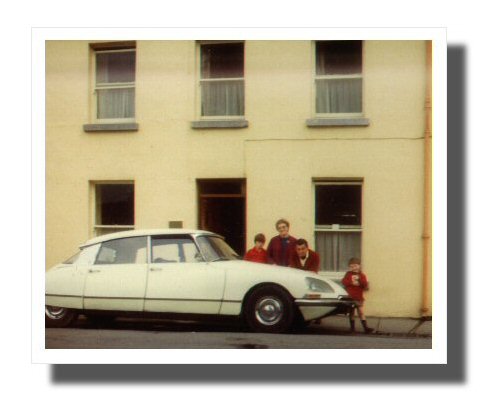 Seo ár dteach i mBaile an Róba sa bhliain 1973.
I was very fond of the Citroen DS 21.
Bhí triúr páistí againn faoin am seo.
I was involved in politics in the 1970's.
Thug mé tacaíocht do Fhine Gael.
They entered government in coalition with Labour in 1973.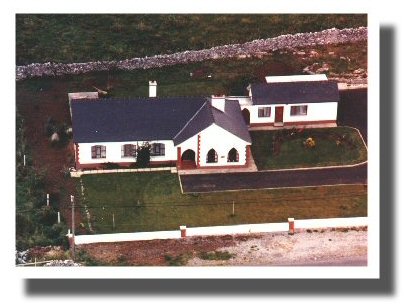 We built a new house outside the town in 1978.
Chosain sé £30,000.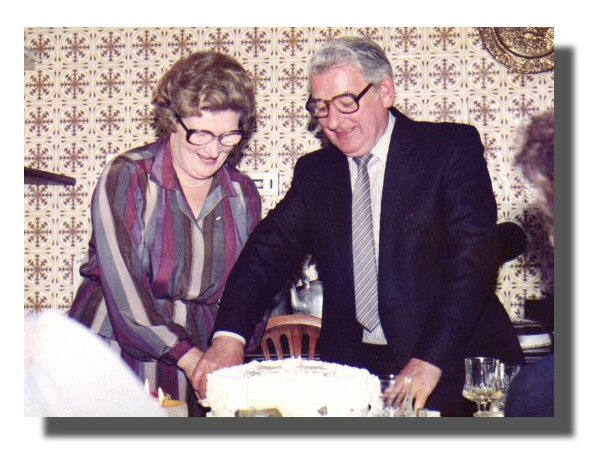 1983: Le chéile 25 bliain.
Lots of people had to leave Ireland in the 1980's to get work elsewhere.
Tháinig biseach ar an scéal sna '90idí.
Click here for an interesting Japanese account of Ireland's economy.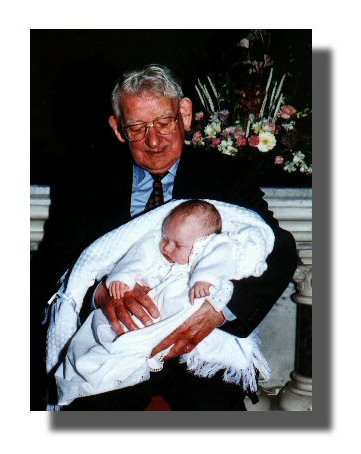 Garmhac darb ainm Stiofán sa bhliain 1998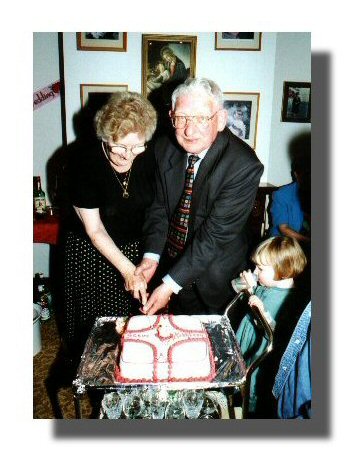 Cáca arís sa bhliain 1998: 40 bliain pósta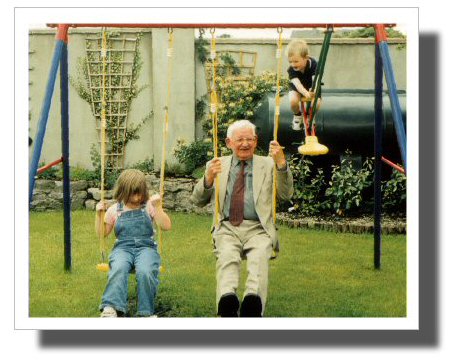 2002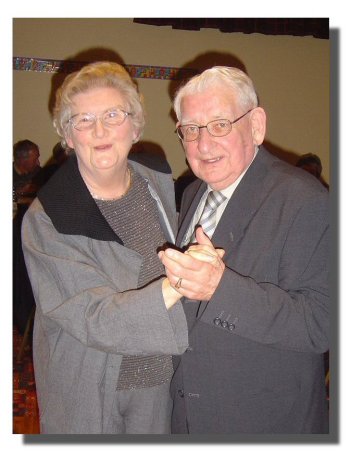 Bhí breithlá speisialta agam sa bhliain 2003.
Tháinig deireadh mo scéil sa bhliain 2006.
Now click here to read about the life of Mary Shanahan in the Thirties
Would you like to interview someone you know well?
Use these questions, which are based on a website by Jack Stacey:
Primary School
Where did you go to primary school?

How did you travel to and from school?

Can you remember school rules?

What clothes were worn at school?

How many children were in the class?

What was your least favourite subject?

What time did school start and end at?

Did any special things happen?

Do you remember your First Communion?

Do you remember your schoolbooks?

Did you go on any school trips?

At what age did you start?

What teachers do you remember?

Were the teachers strict?

How was the school heated?

What was your favourite subject?

Did you get much homework?

What did you eat for lunch?

What games did you play at break?

Describe your Confirmation.

Have you any old copies or books now?

What did you do after primary school?
Houses
How many rooms were in your house?

What kind of floor covering was there?

What fuel was burned in the fire?

How was cooking done?

How were clothes washed?

What was the roof made from?

Describe the fireplace

What lighting was used?

Where did you get water?

What chores did you do around the house?
Farming
What crops did the farmers grow?

What machines were used?

How was land prepared for sowing?

What work was done in the different seasons?

Where did farmers buy seed?

Was your butter homemade?

Was there a forge nearby?

Was there a limekiln?

What animals did farmers keep?

How was ploughing done?

Did you help on a farm?

Were prayers said for the success of the crops?

Where did farmers but and sell animals?

Did you keep hens or geese at home?

Did fields have names?

Can you tell more about farm life?
Customs and Cures
Were there any local customs?

Did your family have any special cures for children's ailments?

Was there a holy well in the area?

Were you ever sick yourself?

Was there a pattern or patron held locally?

Name some traditions to do with weddings, funerals or feast days.

Could anyone local cure health problems?

Can you remember any customs?
Games and Pastimes
Did you play skittles or marbles?

Did you play conkers?

Did you play cards?

Did you listen to the radio?

What music was on the radio?

Say some skipping rhymes.

What toys did you have?

Did you read books?

Did you go to the cinema?

What sports did you play or watch?

What were the rules?

How would you make conkers harder?

What card games can you remember?

What stations were on?

Name presenters or famous people.

Did you fish?

What would Santa bring?

Did you read comics?

Name some films or actors.

What games did you make up?
Weather
How did people forecast the weather?

Did people observe the moon, hills or clouds?

Do you remember rhymes about weather?

Was there a local expert at forecasting?

Did they observe animals?

Did trees or plants help in forecasting?

Did types of weather have special names?

Can you remember any very bad weather?
These questions are available on a Word document which is suitable for printing.
Click here.
29 essays about grandparents here
27 more essays here