Ár gCairde Thar Lear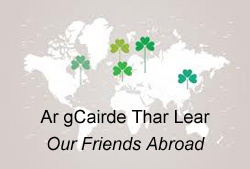 Rang 3 wrote to their friends and relatives abroad in 2013
"Belgium is famous for waffles, chocolate, mussels and french fries, and beer"
col ceathrar sa Bheilg atá ag Roisín Ní Annáin
Hey third class,
I am Anna from France. I live in Brittany, in a town called Bruz.
In France, we start school at 8:30 and we finish at 4:30.
At shool, we don't bring our lunch, we have a canteen.
We usually have a starter, a main course, and a desert or a piece of fruit.
In France, we often eat: pasta, rice, meat like beef, potatoes and carrots.
I am sorry for sending this mail a bit to late but I was very happy to write it.
Anna
Laoise Ní Mhurchú- An Fhrainc
Hi Onagh,

Chicago is famous for its deep dish pizza.
It is really good.
Chicago is known for its love of international food
for example: Irish, German and Italian.
I hope this is helpful for your class.
Love from Auntie Sinéad
Onagh Bairéad- Meiriceá
Hello Roisin, here is a list of some Nigerian foods:
1. Jollof rice
2. Moi moi (Steamed bean pudding)
3. Yam
4. Eba (made from cassava flour)
5. Suya (Grilled meat skewers)
6. Beans
7. puff puff (fried doughnut)
8. pounded yam
9. semolina
10. obgonno soup
11. Egusi soup
12. Banga soup
13. Groundnut soup
14. plantain
15. Frejon (Pureed beans)
16. Gbegiri soup
17. Afang soup
Róisín Ikele- Uncail i Nigeria
Hello to all of you from NZ
The food in New Zealand is very much like home.
However the Maori people cook a traditional meal called a Hangi for special occasions.
This is cooked by digging a hole in the ground, heating stones,
putting the food on the hot stones and covering it back over with the earth.
After about 5 hours the Hangi is 'lifted' and eaten.
The weather is nice here.
Spring/ Summer is from October to March and Autumn/ Winter April to September.
So it's the opposite to home.
The Summer is hotter than Ireland but the Winter is much much colder.
Having said that it rains very little.
I play GAA for Christchurch and we have our last match tomorrow. Pray that we win.
In the summer we go to the beach and in the winter sometimes we ski.
The New Zealand people are very friendly.
In Christchurch the people are still getting over the earthquakes,
so they're happy to see people over here helping with the rebuild.
The drivers seat is on the same side.
We don't have any pet but many people do, just like home.
Our friend has a ginger kitten called Finbar.
New Zealand is in Oceania.
There is a big rivalry with Australia so the people here wouldn't like to be called Australian.
The accent isn't hard to understand. Some people over here find me difficult to understand.
I hope this helps Aisling and if there is anything else I can do for you let me know.
Hello to all in Rang a Trí
Bye for now,
Anthony
Aisling Ní Thiarnaigh- Nua Shéalainn
Hello Oscar, Múinteoir Michelle agus gach duine eile i rang a tri.
Eanna here, Oscar's uncle.
I live in San Francisco, home of the famous Golden gate bridge.(Picture attached).
This was the tallest suspension bridge in the world at 227 meters above sea level, up until 1998.
There is enough cable used in the bridge that, if laid end to end,
it would wrap around the circumference of the earth 3 times.
Oscar Ó Cofaigh- Uncail sa Mheiriceá